You can use the FAD Portal to generate and export a variety of reports – click on the 'Reports' item from the homepage or, if you are a registered user, on the side menu.
Report type
First, choose the type of report you want to generate. Click on the 'Select report type' dropdown, then click the type you want.
This will show a table with all available information for each of the returns in that category. You are able to change the sorting order of the data by clicking on the arrows next to any of the columns.
Add filters
Optionally, you can also add filters to your report. Click the 'Add filters' button. This will bring up a pop-up with a dropdown menu.
Click on the dropdown menu to see the types of filters available. You can select from:
Amount: Amount of gift. Fill in the blank fields with numerical values to narrow down the range of gift amounts that are displayed.
Date period: Choose from the dropdown list of this month; last month; last 3 months; this calendar year; this financial year; or custom – custom allows you to choose a date range using calendar buttons.
Election period: Choose from the dropdown list of all election periods; this will show only returns relevant to that period.
Status: Choose from the dropdown list whether you want to see reconciled or unreconciled gifts, or both.
Party: Choose from the dropdown list of registered political parties.
Candidate: Choose from the dropdown list of candidates.
Associated entity: Choose from the dropdown list of associated entities.
Click 'Add filter' once you have made your selection, and the table will be filtered accordingly.
You can have multiple filters applied at one time – the filters selected are shown across the top of the table.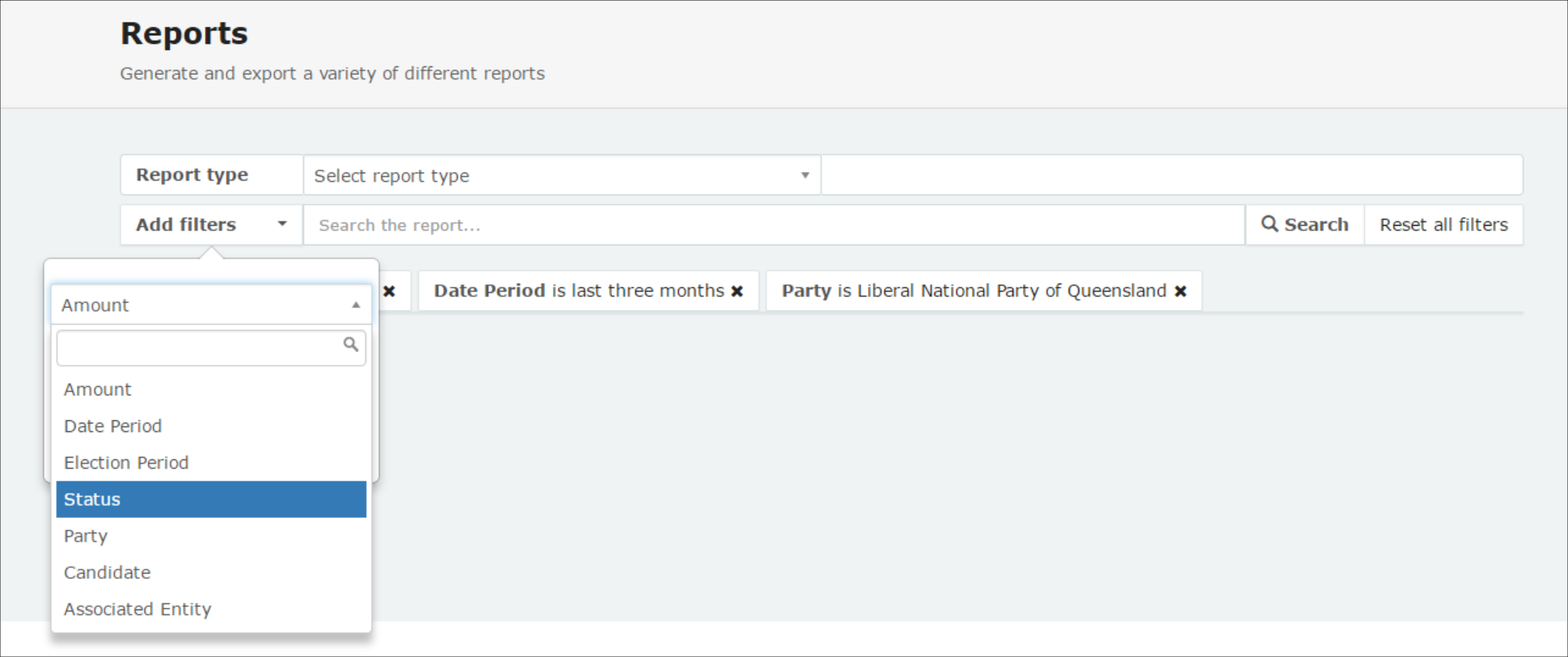 To remove a filter, click on the black X to the right of the filter box. To remove all filters, click 'Reset all filters'.
Search
You can also search for words used such as name or address. Type your search term in the search box, then click the 'Search' button to the right.